Steel & Concrete Bollards
Protection For Public & Commercial Parking Lots
Shield buildings and pedestrians from vehicle collisions with high-quality bollards from Pavemax. Bollards are concrete and steel safety posts that are installed outside of building entrances, along sidewalks, and in other critical areas of parking lots. Similar to bumper blocks, only taller, slimmer, and stronger, bollards indicate to drivers that some areas of the parking lot are off-limits to cars as well as prevent vehicles from entering those areas. Bollards are affordable to install, yet they provide invaluable protection. As industry-leading bollard installation contractors, we use high-quality materials to create our bollards and then position them strategically so that parking lots are made as safe, orderly, and eye-catching as possible. Contact our Florida paving and asphalt company to request a free estimate.
Free Estimate
Uses For Bollards In Parking Lots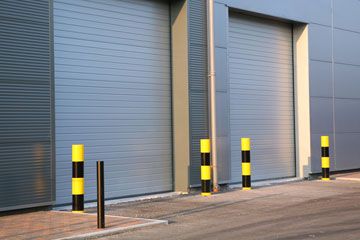 Building Protection
Hundreds of vehicles crash into buildings every week, usually due to mechanical failures or operator errors. Concrete bollards shore up a building's vulnerable areas, such as entrances, exterior corners, and loading zones, by creating a buffer between the structure and traffic. Although bollards won't prevent driver errors, they will limit the consequences.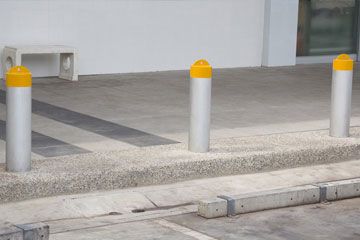 Pedestrian Safety
Slow-moving vehicles can still cause severe injuries to pedestrians. But placing bollards in high-foot-traffic areas, including around doors that lead to parking areas and beside walkways that cut through parking lots, makes the areas safer for pedestrians. Bollards can also prevent vehicles from rolling over curbs and onto sidewalks.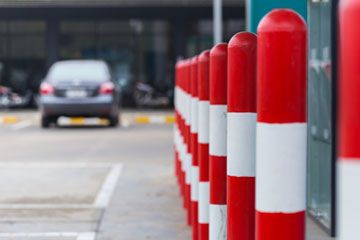 Traffic Organization
Parking lots that inadequately direct the flow of traffic put both drivers and pedestrians at risk. Bollards can improve parking lot organization by indicating to drivers where their lanes of travel start and end. And because of the height of bollards, and the fact they can be painted with distinguishing colors, bollards are easily seen by drivers and passengers.
Bollard Installation Process
For such a critical safety feature that lasts for many years, bollards from Pavemax are surprisingly affordable and easy to install. Whether you need bollards to protect a storefront from vehicle collisions or to make sure that employees have a safe path from their cars to the building entrance, we can design custom bollards that are functional and appealing for your parking lot. Our installation process involves several steps:
Create a design that meets the height and circumference requirements.
Manufacturer the bollards with high-strength steel cores and premium concrete.
Paint the bollards to either be highly visible or camouflage into the landscape.
Mark the designated spaces on the parking lot where the bollards will be installed.
Drill holes to insert the bollards while being careful not to disturb the surrounding area.
Mix fresh concrete and fill the holes, insert the bollards, and allow the concrete to cure.
Our paving and asphalt company can also incorporate bollard installations into parking lot constructions or renovations, along with services such as asphalt sealcoating and crack repair. And if safety is the primary goal, we recommend pairing bollards with speed humps or line striping.
Free Estimate